Travis Alabanza
Travis Alabanza is a performer, writer and theatre maker. Their unique mixture of performance, poetry, style, political views and risk taking performances has given them a unique placement both nationally and internationally.
In 2016/17 they became the youngest recipient of the Artist-in-Residence at The Tate Workshop Programme, and starred in Scottee's theatre production Putting Words In Your Mouth at The Roundhouse.
They then played Amyl Nitrate in Chris Goode's adaptation of Derek Jarman's Jubilee to great acclaim at the Royal Exchange Theatre, Manchester and Lyric Hammersmith, London. They have performed in venues such as V&A, Tate, ICA, and Barbican – and had their work featured in The Guardian, BBC, Huck Magazine and more.
Travis recently appeared in Dear Elizabeth at the Gate Theatre, Notting Hill and  The Ridiculous Darkness also at The Gate Theatre.
They are currently starring in Burgerz at the Traverse Theatre at The Edinburgh Festival.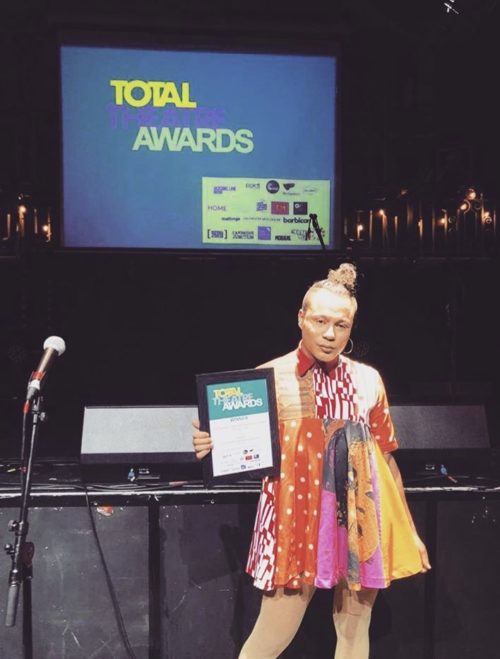 Travis Alabanza's Burgerz wins prestigious award at The Edinburgh Festival
Total Theatre & Theatre Deli Award for an Emerging Company / Artist
Winner: Burgerz by Travis Alabanza, produced by Hackney Showroom (England), Traverse Theatre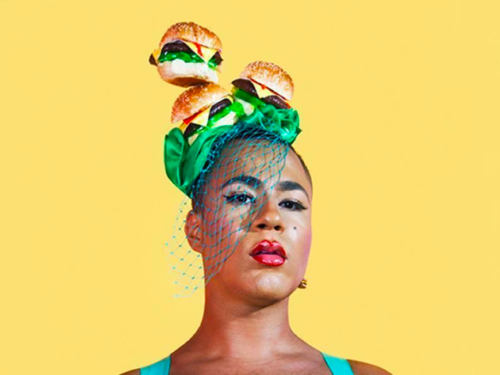 5 STAR Reviews are in for Burgerz at the Traverse Theatre, Edinburgh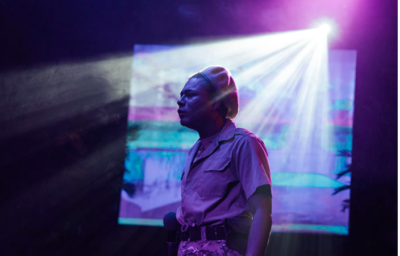 The cast is uniformly excellent, but Travis Alabanza's magnetic performance as a white soldier attempting to maintain control of a "civilised" narrative is particularly well-measured. THE STAGE
It is sardonic and political, but also really funny: Travis Alabanza is particularly amusing as the haughty Pellner, who at one point describes graphically native culinary rituals in a near swoon, only for it to become increasingly apparent that the horrified officer is talking about the making of sausages. TIME OUT
The  cast give exuberant performances:  The anti-bromance between Alabanza's Pellner and Beh's Dorsch threatens to turn into something more chilling as the journey progresses and this creates a buzzing fear alongside the comedy. The Guardian
The cast is energetic and has great chemistry.  Seraphina Beh and Travis Alabanza work great as the duo looking for Deutinger. A Younger Theatre
Rose is outstanding. the rest of the cast – Travis Alabanza, Shannon Hayes and Seraphina Bey – prove to be good too. THE TIMES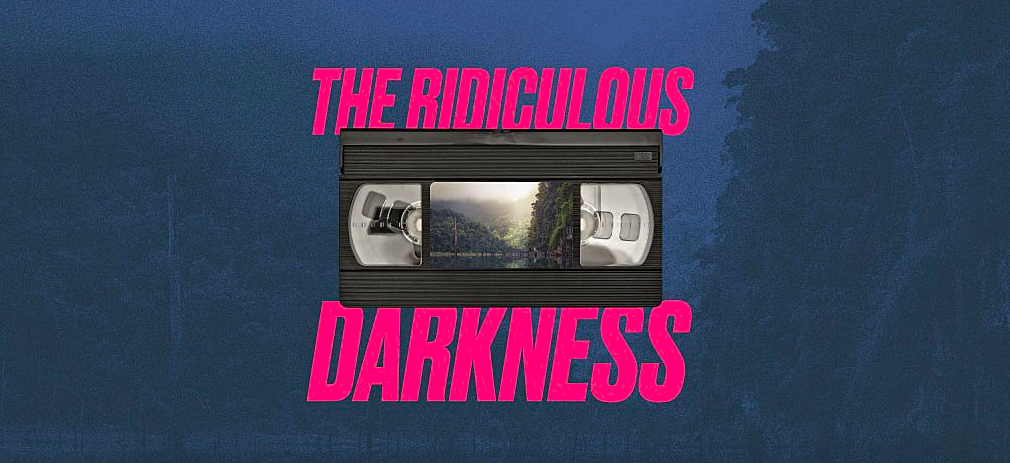 The Ridiculous Darkness
Travis will be starring in the Gate Theatre's production of the Ridiculous Darkness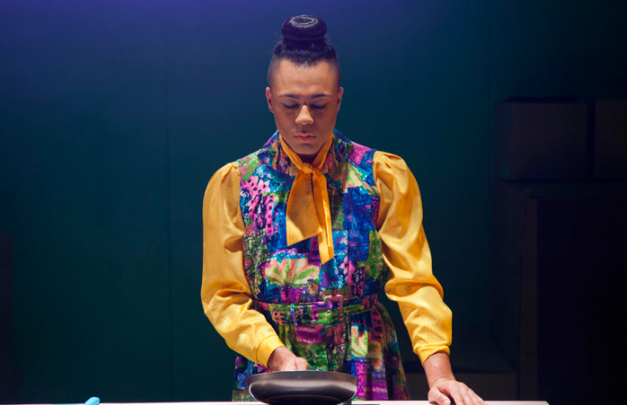 Reviews for Burgerz:
"I really enjoy Travis as a performer. They have a gorgeous poise, and effortless hilarity." 

Exeunt Magazine

"Funny, clever, and heartfelt, 

Burgerz 

is a piece that balances humour and emotion well. It's must-see viewing that makes the despicable treatment of the trans community clear" 

ayoungerhteatre

"Alabanza is at their poised best when improvising with the audience, funny and knowing" 

The Stage
"What followed was a rollercoaster of emotions delivered to us by the superb performer that is Travis Alabanza. They are amazing, they hit the tone perfectly and they were able to go deep into my soul and bring out emotions that haven't been visited in a long time. By the end of the show, every member of the audience was on their feet cheering for Alabanza and if the rest of the audience was like me, I'm sure they wanted to go and hug Alabanza too." lontheatre1.com
"To say that 'Burgerz' is moving would be an understatement. Travis Alabanza, a prominent young performance artist, has created a compelling, powerful show in response to the violence they face as a Black, gender non-conforming trans person. 

It is intense, and absolutely vital, theatre."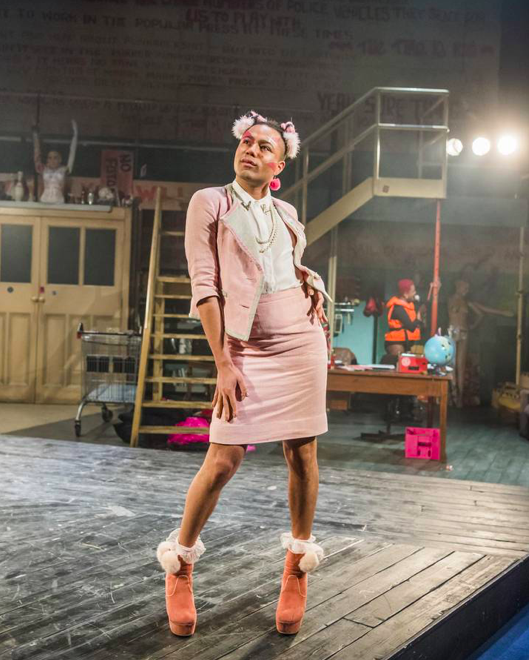 Reviews for Jubilee
"Travis Alabanza is an entertaining presence as the gang's nominal leader Amyl Nitrate" 

The Stage

"Alabanza's rasping, expansive, melancholy confrontations with the audience. In powder-pink skirt and jacket, a long string of pearls and high bootees with pom-poms, Alabanza (who prefers to use a gender-neutral pronoun) dynamically wires spectators into what's going on." 

The Observer

"For all that it's an ensemble piece, with an all-round brilliant cast, the show belongs to Alabanza's swaggering, acerbic Amyl. Goode's script gifts them with lacerating wit, as they archly lecture us on the history of human rights and the British Empire. But Alabanza can also slice right through the irony and patter, suddenly stripping everything back to naked, shuddering anger." 

Exeunt Magazine

"T

he part is played to the mischievous, accusatory hilt by transgender "femme" performer Travis Alabanza" 

The Telegraph

"But for every facepalm moment, such as the dispiritingly safe collective howlalong of Toyah's greatest hit "I Want To Be Free", there is an unexpectedly thrilling one, such as Alabanza's riff on the "no future" motif" The Financial Times

"Our MC for the evening is the excellent Travis Alabanza, as Amyl Nightrate, a confrontational figure in a powder-pink twinset, a long rope of pearls and high-altitude bootees. This character, gentle and intimidating, is the brains behind the marauding girl gang with the penchant for suffocating one-night-stands and the most articulate mouthpiece for the show's questions and concerns – such as whether, art would become totally redundant, if you lived a life of integrity where your desires were realised." 

The 

Independent 

"Performance artist Travis Alabanza gives a brilliantly charismatic and assured performance, having great rapport with the audience, bringing out layers of meaning especially regarding gender and sexuality—a hot topic at the moment." 

British Theatre Guide

"They're a joyous and riotous bunch led by Travis Alabanza's schoolmarmish Amyl Nitrate, our impish emcee for the evening dressed in baby pinks and pearls" 

Whatsonstage.com

"Travis Alabanza in particular delivering an engaging and entertaining performance as gang leader Amyl Nitrate" 

Franklymydearuk.co.uk

"Travis Alabanza gives a blazing performance as ringleader" 

Evening Standard

"The straight-talking Amyl, played on stage by the mesmerising 

transgender performer Travis Alabanza" The Guardian