Kelly Hunter
Kelly is an experienced actor and director, with over 35 years experience in the industry. On stage, she has worked at the National Theatre, the RSC, and in numerous West End productions. Her most screen work includes feature film Elizabeth: The Golden Age and Doctor Who.
Kelly recently directed and starred in Hamlet: Who's There?, produced by her own theatre company Flute Theatre, which toured the UK and across Europe, including at the Shakespeare Festival at Kronborg Castle. Hamlet transferred to the Trafalgar Studios, West End, in December 2016, enjoying a hugely successful, sell-out run.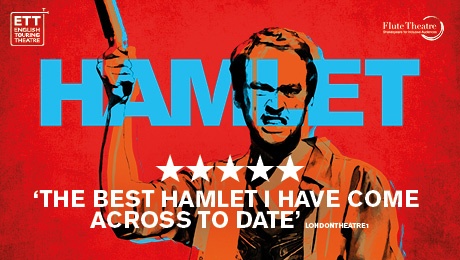 Fantastic reviews for Kelly Hunter's 'Hamlet'
Kelly Hunter's production of Hamlet, which has transferred to the Trafalgar Studios, West End, following successful tours of the UK and Europe, receives glowing reviews in the press.
The press on Kelly Hunter's Hamlet:
"Hunter's adaptation retains all the most relevant parts to the story, whilst also bringing some truly novel concepts…This is a passionate and brave adaptation of one of Shakespeare's best-known plays that hits like a punch to the stomach." 4 stars, Aliya Al-Hassan, Broadway World
"visceral, stylistically intoxicating, and a world away from cosy singalongabard. It nails its colours firmly to a psychiatric mast, and inverts all the old certainties of the script, while retaining a central essence of the play which many have attempted and few have achieved…one cannot walk out of the studio unmoved." 4 stars, Alex Wood, Theatre Bubble
"Economic, succinct and even visionary, Hunter has taken liberties, cutting and splicing together scenes and characters (Horatio is no more but another form of Laertes, a mite confusing to those who maybe don't know their Hamlet). But in the main, what she has created is a desperate, keenly graphic re-emphasising of the madness, the tumbrils and detonators going on in a human brain when confronted by loss and emotional pain. Pretty terrific." Carole Woddis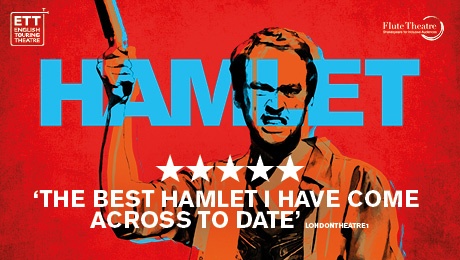 Kelly Hunter's 'Hamlet' in West End transfer
Kelly Hunter's critically acclaimed Hamlet, will transfer to the Trafalgar Studios, West End, this December.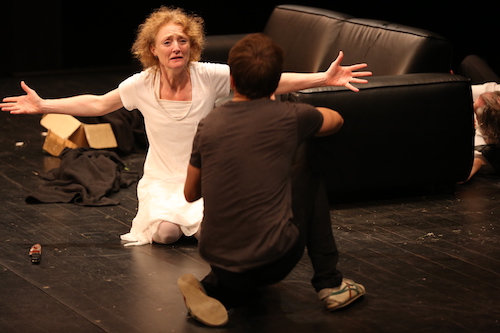 Kelly directs and stars in 'Hamlet, Who's There?'
Following a critically acclaimed premiere at the Gdansk Shakespeare Festival, Hamlet, Who's There?, directed by and starring Kelly Hunter, has been invited to the prestigious International Shakespeare Festivals at Elsinore Castle, Denmark, Neuss Globe, Germany, and Craiova, Romania.
Hamlet, Who's There? will also play in London at the Park Theatre at the end of April.
What people said about Hamlet, Who's There? in Gdansk:
"Flute's brilliantly-observed, tersely contemporary Hamlet – a claustrophobic take on the play which compresses its traumatic events into a single continuous night – works on its audiences with visceral force. It is both compassionate and withering: an intense distillation of tragedy which makes the best-known play in world drama new for another generation." Michael Dobson, Director, Shakespeare Institute
"Even at this relatively early stage in its life, this is one of the most compelling, intense and moving stagings of Hamlet that I have experienced."
Robert Shaughnessy, Professor of Theatre, Kent.
For dates and more information on the production, click here.